Elite's Cold Web Printing Capabilitties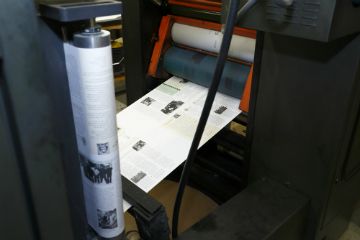 Think of the cold webs for these items:
Cut sheets statements, letterheads – folded or unfolded

Capable of in-line perforation- single horizontal or vertical to multiple coupon style perforations

Folded or nested letters, disclosure notices, instruction booklets

Brochures, self – mailers, flyer

Buck slips

Magazine inserts, Bind-in, blow-in cards, or wraps

Small booklets

Complete direct mail packages from #10 – 9 x 12's
Equipment/Print Capabilities
Two  8-color Didde cold webs – prints in any combination 8 colors: e.g. 1/1 to 4cp/4cp

Maximum sheet size 22" x 23"

Features one pass printing on web rolls to a cut sheet size of 8 ½ x 11, 11 x 17 or 17 x 22

Webs run up to 25,000 17 x 22 sheets per hour or up to 100m 8 ½ x 11 sheets per hour

Quantities from minimums (5,000) to millions. Paper Stock – uncoated only

Paper weights –from 30# newsprint through 50#, 60#, 70# up to 7 and 9 point hi-bulk or 115# Finch reply for postal regulations

All types of specialty colors

In house pre-press and bindery services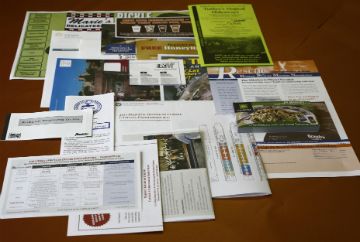 Direct mail printing and cut sheets
Cold Web presses are perfect for bank statements and any type of billing statements. 8 ½ x 14 or 8 ½ x 11 cut sheets with or without micro perforations can be done in line for maximum efficiency. Saddle stitched and folded disclosure notices are also easily produced. Direct mail components that might include additional items such as contribution cards, buck slips, glue-bound or nested letters are very popular configurations that work very well with this equipment.
For example – These common direct mail packages work well:
11 x 17 letters or brochures that can be folded to 8 ½ x 11 or down to #10
8 ½ x 11 letters, inserts, flyers folded or not
3 ½ x 8 ½ or 5 ½ x 8 ½ contribution cards or reply slips
8 page – 8 ½ x 10 ¾ brochure or nested letter
Specialty size 4 page brochure with 4" flap – 23 x 11 folds to #10 or 5 ½ x 8 ½