Printed Bubble Mailer Envelopes
Improve your look and feature your brand!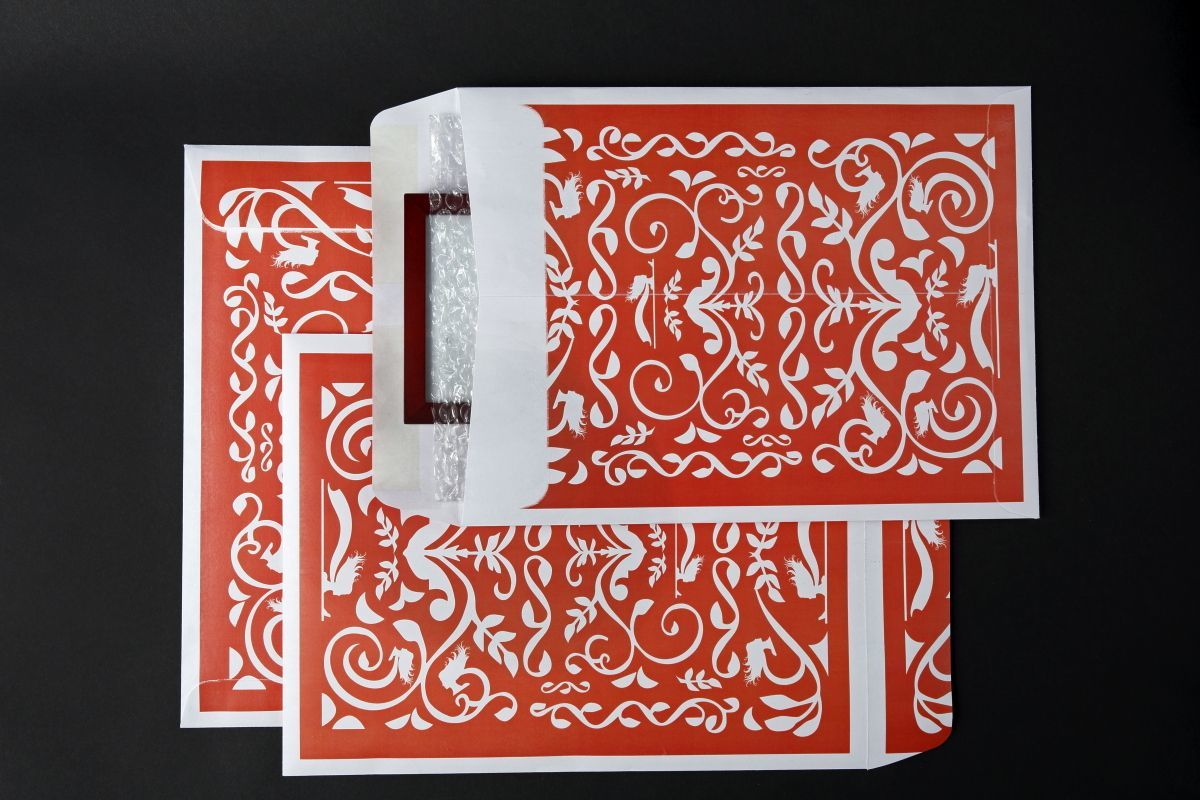 Anyone who's tried to buy a small quantity of custom printed bubble mailer envelopes knows how difficult it can be. At Elite Envelope, we've solved that problem and you'll love what we can do.  
First, we can print pretty much any kind of 4 color process image on a stock paper bubble paper envelope in either white or brown kraft on one or both sides.  The print is high-quality digital printing in the following stock sizes:   
#000 - 4" x 8" - (inside space - 4.25 x 7")  500 per carton 
#00 - 5" x 10" - (inside space - 5 x 9")  250 per carton
#0 -  6 -1/2" x 10" - (inside space - 6.5 x 9")  250 per carton
#1 - 7-1/4" x 12" - (inside space - 7.25 x 11") 100 per carton
#2 - 8--1/2" x 12"  - (inside space 8.5 x 11") 100 per carton
#3 - 8 -1/2 x 14 -1/2" - (inside space 8.5  x 13.5") 100 per carton
#4 - 9 -1/2 x 14 -1/2 - (inside space 9.5 x 13.5") 100 per carton
#5 - 10 -1/2 x 16 - (inside space 10.5 x 15") 100 per carton
Please note: The inside dimensions can change slightly based on the manufacturer of the product.
Printing on the bubble envelope will give you a more professional look than sticking on a label. It will set apart the mail from the ordinary and let your customers know that they are receiving something special. We're more than happy to print small quantities down to a single carton. Or as many as you'd need. 
Note; for printed poly mailers, the minimums are generally going to be much higher than for paper.  Also, the lead times will be considerably longer. There has been a tremendous increase in demand for bubble mailers in general since the pandemic. This, among other factors, has increased the lead times for poly mailers to an average of 8-10 weeks.  For your particular job, please contact us for pricing, minimum quantity and delivery info.   
Secondly, we can print up to four colors even with full coverage on the front and back with our trademarked "Smart Bubble" poly bubble mailer products.  By using a removable bubble sleeve, we are able to print pretty much any type of coverage on a paper, Tyvek, or Herculink envelope first and then insert the bubble sleeve.  The protection is exactly the same as a stock envelope and it has the added benefit of allowing the bubble sleeve itself to be reused or recycled rather than thrown in the trash with the envelope – hence the "Smart" part.
For Smart Bubble orders, there are no size or ink coverage restrictions (up to four colors).  Certain sizes will be less expensive than others and open-end or catalog style envelopes will be less expensive than open side or booklet style envelopes in most cases. And there are no minimums on this style either. We'll quote on whatever quantity you require.  These jobs are all considered custom so just contact us for a quote or if you have any questions.