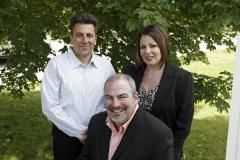 Elite Envelope and Graphics was formed in order to provide the best service and highest quality products available in the envelope industry.
A company is only as good as the people it employs. That sounds cliche' but like most conventional wisdom, there's alot of truth to it.
Elite Envelope is comprised of some of the most experienced and savvy professionals in the industry. From the time your call is picked up to the delivery of your order, we want our performance to be that by which you measure all your other vendors.
We want you to know who you're dealing with when you call us. We hope this information will cause you to feel comfortable with your choice.
Elite Envelope and Graphics Mission Statement
Our mission is as follows:
To provide the best quality service and products available in the envelope and graphics industry
100% customer satisfaction in all cases
Producing envelopes and printed materials of exceedingly and consistently high quality
Treating our customers with the respect, deference and appreciation befitting those who allow us to serve them
Managing a business that allows each employee to reach his full potential with regard to his skills and earnings
Creating a work environment in which the personal lives of our staff are given proper emphasis and where we can enjoy what we do and express ourselves in a manner consistent with high professional standards
Being a good corporate citizen and realizing that the highest reward for our efforts is not what we get for it but what we become as a result of it
Our Company History
Elite Envelope and Graphics was founded in December 2003 by David Theriault, Jerry Velona and Tracie Theriault. Each of the founders has had long experience in the envelope industry, printing and graphic arts, direct mail and marketing.
In June of 2002, Northeastern Envelope in Braintree shut its doors after 60 years of making envelopes. Dave and Jerry worked together for over 10 years at Northeastern and both agreed that the forced closure left many of its former customers with few options. It also left many experienced envelope professionals with fewer options.
Along with Tracie Theriault, they decided to form Elite Envelope and Graphics. The objective was to re-introduce envelope converting and manufacturing to the Boston area and to put their experience and knowledge to work in order to do it better than before.
Elite Envelope has hired numerous, highly-experienced manufacturing and printing staff as part of its mission to hire only the best and most capable people in the industry. Six months after commencing operations, the company surpassed $1mm in sales and over 100 companies had placed orders. The ensuing years have shown a consistent pattern of growth and market presence.
As it grows, the company places heavy emphasis on maintaining a high level of personal service and attention to quality that customers are not always able to find in a very competitive and changing market.
Environmental Policy Statement
Our commitment to the environment goes beyond slogans and gestures. As part of our general business operations, we take the time each day to do those things that will have a direct, positive effect. This emphasis starts with us, the owners of Elite Envelope. We feel strongly that a better world is achieved primarily by the cumulative effort of individuals taking one small but significant step at a time.
Some companies in our industry have decided to promote their environmental concern by purchasing REC's (Renewable Energy Credits). This involves relatively small, indirect payments to companies in various parts of the country which generate electricity through sources such as wind power. Many of these power companies are remotely located and the electricity that they put into the grid doesn't reach the companies who purchase the credits. Nevertheless, claims are then made to the effect that their envelopes are produced using renewable energy. We have no quarrel with the concept of REC's but we feel that the claims made by some of those who purchase them can be misleading and are more about PR than substance.
To demonstrate our commitment in this regard, we installed an array of rooftop solar panels to our plant in the fall of 2016. As a result, we generate over half of the power we consume through renewable solar power directly produced on our premises.
Each week, Elite Envelope recycles thousands of pounds of waste paper. We take the time to separate the various types of stock that we process so that it can be re-used more effectively. Most of the paper we recycle comes from our customers who rely on us to convert their printed sheets into envelopes. We also provide recycled window patch material as an alternative to traditional poly.
All chemicals and ink used in our printing department are disposed of in the most environmentally-friendly way possible. This is a cost we gladly pay in order to keep these materials out of our rivers, streams and groundwater. We also incorporate the use of soy-based ink for many of our print jobs.
At Elite Envelope our concern for the environment is demonstrated and put into practice as part of our everyday operations. If you feel as we do in this regard, you can rest assured that we are a strong partner in our mutual commitment to a cleaner planet.
Yours truly,
Dave Theriault and Tracie Theriault