Item F - 10 X 13 Catalog/Open End Envelope - Latex Self Seal - Brown Kraft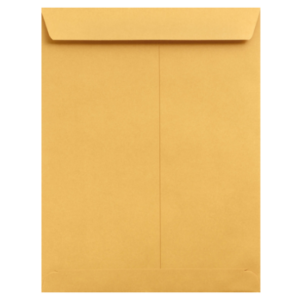 Catalog/Open End style envelopes have the flap opening on the short side. In this case, the 10" side.

Catalog/Open End envelopes can be used for mailing photos, brochures, direct mail, and many other commercial purposes. They are also useful for storage, interoffice communication, filing and other non-mail purposes.

Latex self seal gives the ultimate in convenience. No moistening necessary! Just press down and you've got a nice tight and very secure seal. Please note that latex-self seal envelope are packed with the flaps extended. There is a maximum shelf life of 6 months after which time the gum can dry out and be less effective.

Our envelopes are made from the best quality paper and highest manufacturing standards. Standard paper weight for this item is 28# to ensure sturdiness. Brown Kraft can be useful especially if you have more than one application for the envelope and need to differentiate easily by paper shade. You can be sure the envelope will stand up and be durable and practical for any application.

Size: 10 x 13
Construction: Center Seam
Paper: 28# Brown Kraft
Seal: latex self-seal gum

PLEASE NOTE: If you are sending artwork for this job. Please click on the "Send a File" button to the left and you can attach the file there. Please reference your order and input all information on the upload window.