Item L912 - 9 x 12 Booklet Envelope with Full View Window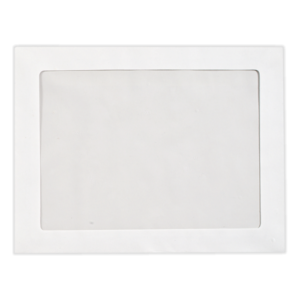 Full view window envelopes feature a large transparent window centered in the face of the envelope which allows the contents of the envelope to be clearly displayed. Our low price White Full View Window 9 X 12 envelopes are perfect for mailing sales literature, catalogs, annual reports, photographs, brochures, and countless other sales, marketing, business, and informational materials.

Full view window envelopes let you see the contents of the envelope right away. These large, full-view window envelopes protect contents while displaying company name, branding, and colorful direct mailing materials to the receiving parties.

Size - 9 x 12 booklet style (flap on the 12" side)
Construction: side seam
Paper: 28# white wove
Window Size: - 7 x 9 3/4"
Window position: 1 1/8" Left and 1" Bottom
Seal: regular gum

We also offer full view windows in #10 and 6 x 9 sizes with regular gum seals.  Printed back flap included.

PLEASE NOTE: If you are sending artwork for this job. Please click on the "Send a File" button to the left and you can attach the file there. Please reference your order and input all information on the upload window.