Item B1013 - 10 X 13 Catalog/Open End Envelope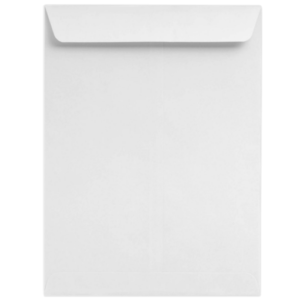 Catalog/Open End style envelopes have the flap opening on the short side. In this case, the 10" side.

Catalog/Open End envelopes can be used for mailing photos, brochures, direct mail, and many other commercial purposes. They are also useful for storage, interoffice communication, filing and other non-mail purposes.

Our envelopes are made from the best quality paper and highest manufacturing standards. Standard paper weight for this item is 28# to ensure sturdiness. You can be sure the envelope will stand up and be durable and practical for any application.

Size: 10 x 13
Construction: Center Seam
Paper: 28# white wove
Seal: Regular gum

PLEASE NOTE: If you are sending artwork for this job. Please click on the "Send a File" button to the left and you can attach the file there. Please reference your order and input all information on the upload window.