Item G - 10 X 13 Catalog/Open End Envelope -Tyvek - Peel and Seal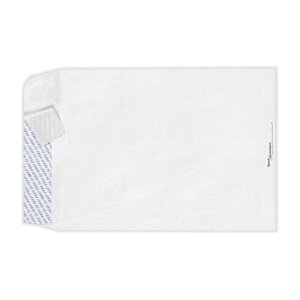 Catalog/Open End style envelopes have the flap opening on the short side. In this case, the 10" side.

Tyvek envelopes are practically tear-proof & puncture-proof, making Tyvek the envelope of choice when confidentiality and security of contents are important.

Tyvek envelopes are much stronger and durable than regular paper envelopes. Tyvek material is non-abrasive, water-resistant, and chemical-resistant, so delicate contents (jewelry, precious metals, photographs, documents) are safe & protected in Tyvek first-class mailing envelopes.

Peel and Seal give the ultimate in convenience. No moistening necessary! Just peel the strip off the top flap and press down and you've got a nice tight and very secure seal.

Size: 10 x 13
Construction: Center Seam
Paper: 14# Tyvek
Seal: self-seal gum with peel strip

PLEASE NOTE: If you are sending artwork for this job. Please click on the "Send a File" button to the left and you can attach the file there. Please reference your order and input all information on the upload window.