Item K10 - #10 Full View Window Envelope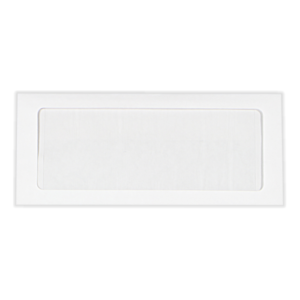 Full view window envelopes feature a large transparent window centered in the face of the envelope which allows the contents to be clearly displayed. Our low price Full View Window #10 envelopes are perfect for mailing sales literature, catalogs, annual reports, photographs, brochures, and countless other sales, marketing, business, and informational materials.

Size: 4 1/8 x 9 1/2
Construction: diagonal seam
Stock: 24# white wove
Window - 3 x 8 (also available with 2 7/8 x 7 1/4 size and slightly different position)
Window position: 3/4" Left, 9/16 Bottom
Seal: Regular split gum

We also offer Full view window envelopes in 6 x 9, and 9 x 12 sizes with regular gum seals.  

PLEASE NOTE: If you are sending artwork for this job. Please click on the "Send a File" button to the left and you can attach the file there. Please reference your order and input all information on the upload window.