Item C10 - #10 Regular, Peel & Seal Closure with Security Inside Tint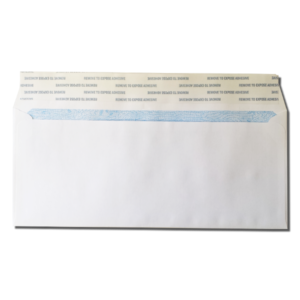 "Regular" envelopes are also referred to as "closed face". In other words, no window! Our envelopes are made with the latest equipment for the best quality available.

Peel & Seal envelopes are huge time-savers, just remove the strip - press - and it's sealed! And the print/tint inside keeps your contents secure and unreadable to anyone who might be a little "too curious"!

Size: 4-1/8 X 9 -1/2
Stock: 24lb White Wove
Construction - side seam
Tint: Blue Woodgrain Tint Inside
Seal: Latex self seal gum with peel strip on top flap

PLEASE NOTE: If you are sending artwork for this job. Please click on the "Send a File" button to the left and you can attach the file there. Please reference your order and input all information on the upload window.