Item I10 - #10 Standard Window, Peel and Seal closure with Security Inside Tint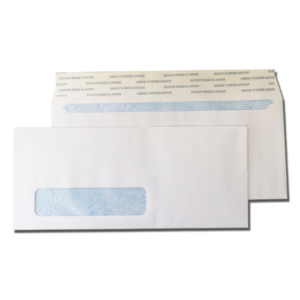 Peel & Seal envelopes are huge time-saver, just remove the strip - press - and it's sealed! Tinted on the inside to keep contents secure and unreadable through the envelope.

Peel and Seal differs slightly from "Flip and Seal". We offer both depending on your preference.

Size: 4-1/8 X 9 -1/2
Stock: 24lb White Wove
Construction - side seam
Tint: Blue Woodgrain Tint Inside
Window: 1 1/8 X 4 1/2 Sq
Window Position: – 7/8 Left – 1/2 Bottom
Seal: Latex self seal gum with peel strip on top flap

PLEASE NOTE: If you are sending artwork for this job. Please click on the "Send a File" button to the left and you can attach the file there. Please reference your order and input all information on the upload window.