Small Drive-Up Envelopes (3 1/4 x 7)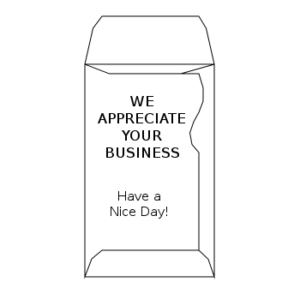 Drive up envelopes are used primarily by banks for transmitting bills, coins and customer receipts through the drive up window.

They differ from coin envelopes in that they have a die cut flap that runs the length of the envelope which can perfectly accommodate bills. Unlike coin envelopes, they do not seal securely but are only useful for transmitting directly from the bank teller to the customer.

Drive up envelopes are generally custom-printed with bank marketing info.

They come standard in two sizes. We can give you either or both!

Size 3 1/4 x 7
Construction: side seam with custom die cut
Paper: 24# white wove
Seal - none

PLEASE NOTE: If you are sending artwork for this job. Please click on the "Send a File" button to the left and you can attach the file there. Please reference your order and input all information on the upload window.