Item E10 - #10 Standard Window Envelope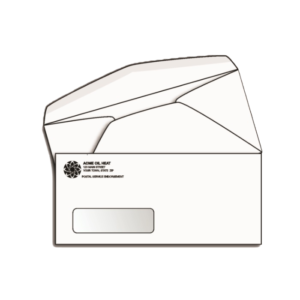 The No. 10 standard window envelope is the standard for business correspondence. Standard paper is 24lb white wove and can be printed in blue or black ink or any custom color you prefer. Our envelopes are manufactured and printed with the highest quality standards in the industry. These envelopes are also made to work with all types of desktop or larger automated inserting equipment.

If you'd like this envelope in a particular type of paper stock; colored, bond or other, please call or e mail us for a custom quote.

Size: 4-1/8 X 9 -1/2
Construction - Diagonal Seam
Stock: 24lb White Wove
Window: 1 1/8 X 4 1/2 Sq
Window Position – 7/8 Left – 1/2 Bottom
Seal: Regular Gum Flip

PLEASE NOTE: If you are sending artwork for this job. Please click on the "Send a File" button to the left and you can attach the file there. Please reference your order and input all information on the upload window.