Item H10 - #10 Standard Window, Flip & Seal closure with Security Inside Tint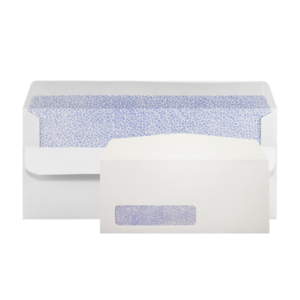 If you're looking for convenience, this envelope should fit your needs. To seal, simply fold the bottom flap up to meet the top flap and apply pressure. No moisture required! Standard window works well with all standard letter size contents to show address nicely. Our Flip & Seal envelopes are ONLY available in tinted inside for privacy of contents.

Size: 4-1/8 X 9 -1/2
Stock: 24lb White Wove
Construction - side seam
Tint: Blue Woodgrain Tint Inside
Window: 1 1/8 X 4 1/2 Sq
Window Position: – 7/8 Left – 1/2 Bottom
Seal: Easy Seal latex gum

PLEASE NOTE: If you are sending artwork for this job. Please click on the "Send a File" button to the left and you can attach the file there. Please reference your order and input all information on the upload window.