Item A912 - 9 x 12 Booklet Envelope - 24 lb.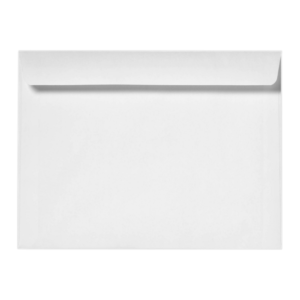 Booklet envelopes have the flap/opening on the longer dimension. 9 x 12 booklet style envelopes are an industry standard and are very commonly used for booklets, photos, brochures and a wide variety of mailing and non-mailing usage like filing and storage.

Our envelopes are sturdy and made with the finest grade, bright white paper available.

Size: 9 x 12"
Construction: side seam
Paper: 24# white wove
Seal: regular gum

PLEASE NOTE: If you are sending artwork for this job. Please click on the "Send a File" button to the left and you can attach the file there. Please reference your order and input all information on the upload window.