#6 3/4 Regular Business Reply Envelope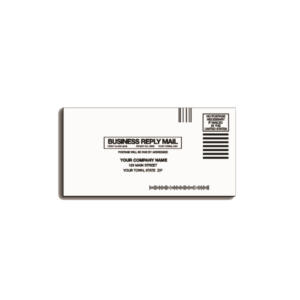 This is just a #6 3/4 regular printed with either Courtesy Reply or Business Reply info.

A courtesy reply envelope just contains the printed return address and requires postage.

Business Reply envelopes are pre-addressed, specially formatted, usually bar-coded envelopes that enable a business to pay the postage for mail received from its customers. Business Reply envelopes make it simple and convenient for customers to send payments or information quickly. To get started, contact your post office rep to obtain an account number. Once you've got that, the post office will supply you with a print-ready pdf file with your address info. Just send that to us with your order and you'll be good to go.

If you're unsure how to go about getting the permit and info from the post office, we can help. Just ask!

Size: 3-5/8 x 6-1/2 -
Construction: diagonal seam (side seam also available)
Paper: 24# white wove
Seal: regular gum

PLEASE NOTE: If you are sending artwork for this job. Please click on the "Send a File" button to the left and you can attach the file there. Please reference your order and input all information on the upload window.