6 x 9 Booklet Envelope - 28# white wove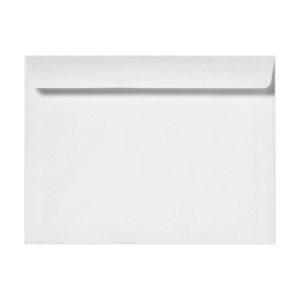 A Booklet envelope has the opening on the long side - in this case the 9" side.

6 x 9 booklets are great for folding a letter size sheet in half versus in thirds which is what is required by a #10 size. They can fit more sheets with less bulk than a #10 depending on your needs. 6 x 9 envelopes use the same postage rates as a #10 which makes them a good choice for many kinds of mailings when cost is a consideration.

28# paper provides added strength and rigidity for your contents when you need it. As always you can count on us for the best quality and brightest wove paper in the industry.

Size: 6 x 9
Construction: side seam, straight flap with rounded corners
Paper: 28# white wove
Seal: regular gum

PLEASE NOTE: If you are sending artwork for this job. Please click on the "Send a File" button to the left and you can attach the file there. Please reference your order and input all information on the upload window.