Item F10 - #10 Standard Window Security Inside Tint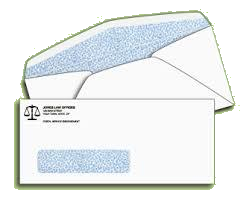 No. 10 standard window envelope with security inside tint, 24 lbs. white wove is the standard for business correspondence. Your standard 8 1/2 x 11 letter with the mailing address printing in the upper left will show through the window nicely when folded. Our envelope construction and printing is of the highest quality and standards. This envelope is also manufactured to work well on all kinds of automatic inserters for maximum convenience.

Size: 4-1/8 X 9 -1/2
Stock: 24lb White Wove
Tint: Blue Woodgrain Tint Inside
Window: 1 1/8 X 4 1/2 Sq
Window Position – 7/8 Left – 1/2 Bottom
Seal: Regular Gum Flip

PLEASE NOTE: If you are sending artwork for this job. Please click on the "Send a File" button to the left and you can attach the file there. Please reference your order and input all information on the upload window.