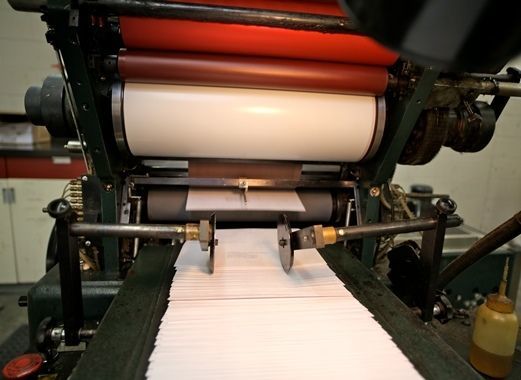 A question I'm often asked is, "What's the best way to print an envelope?"    There really is no simple answer. The best printing method depends on various factors.  
There are four ways to print an envelope.  The most common is offset printing, most typically done on Jet presses made by the Halm Corporation.  Jet is a brand. (It's often confused with ink-jet printing which is a completely different process mostly used for spraying addresses on envelopes for a bulk mailing.)
Digital printing has become more and more common for envelopes. While any desktop printer can digitally print an envelope, the best results are achieved with larger presses specifically built to print envelopes.
Flexo (short for flexographic) printing is done in-line as the envelope is made. Flexo printing is done with hard plastic printing plates as opposed to the metal plates used for offset printing.
Lastly, litho (short for lithographic) printing is done on either flat sheets or on web presses. Litho printing requires an envelope conversion (folding, gluing, etc.) after the fact.
The following factors will often determine how best to print your envelope.
Quantity – Very small quantities, from a handful through a couple of thousand will generally be done on a digital press.  A big part of the cost in any print job is the set-up (mixing inks, preparing plates, etc.). Digital printing requires very little set up time making it the easiest and most cost-effective way to print an envelope.  Quantities from 2,500 up to a couple of hundred thousand are typically best-done offset. And quantities above that are often printed flexo for best cost.
Cost – What's your budget?  This can be a major factor is deciding how to print your envelope job.  Litho printing might be the best based on the type of quality you're looking for; however, it's the most expensive method.   As mentioned above, digital printing will be the least expensive for very small quantities.
Ink Coverage – For envelopes with large amounts of ink coverage, especially full coverage front and back, litho printing is generally the best method for quantities of 5,000 and up.  Smaller quantities with full coverage can be printed digitally on flat sheets and then converted.  Digital printers like the ones we have at Elite Envelope can print heavy coverage on a stock (pre-made) envelope but there will need to be borders in certain cases. Offset printing will be best for lighter coverage where there are no bleeds (printing to the edge).
Sometimes it may just come down to personal preference.  While digital printing might be the least expensive for your job, some people just prefer the look of offset printing.  And if you're trying to match another component in a set, like letterhead and companion envelope, you'll definitely want them both printed with the same method.
At Elite Envelope, we can print your envelope in any of these methods. We'd be happy to advise you which method would be best for your particular job with no obligation.