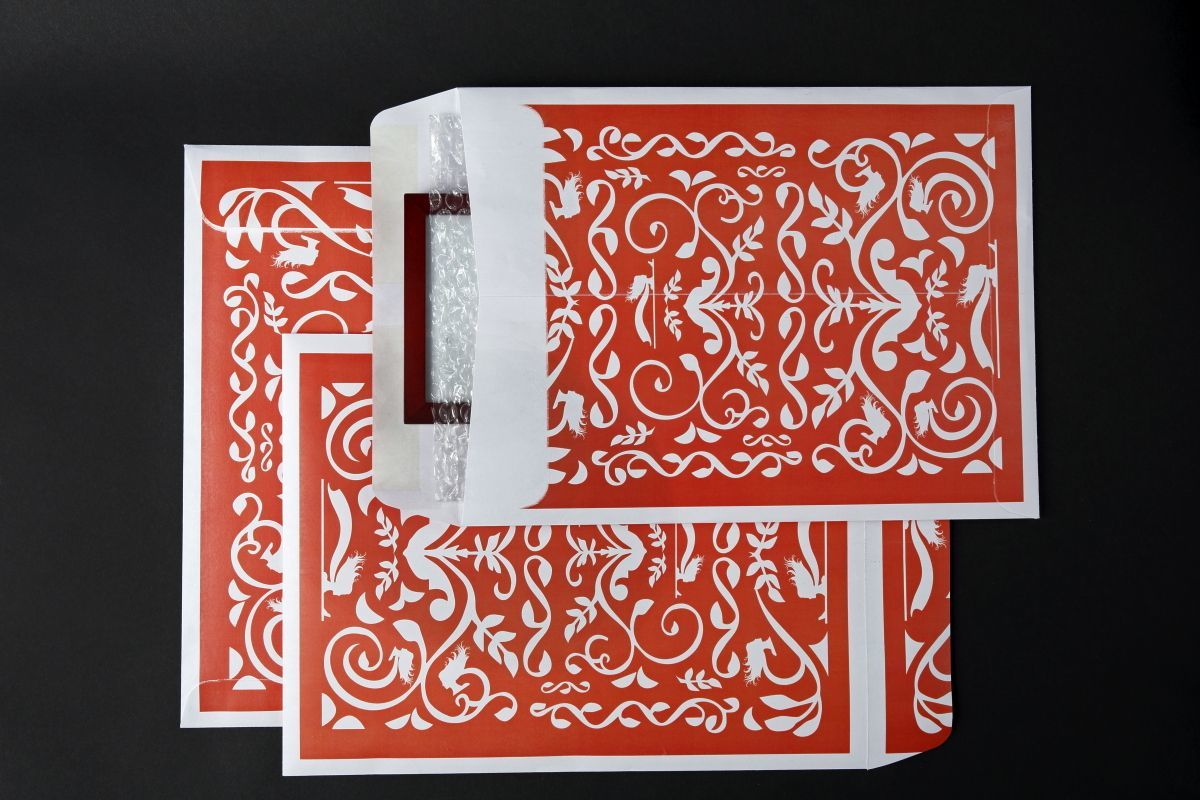 Ah yes, "paper or plastic?"; something you heard pretty much every time you went through the supermarket checkout counter. Those days are mostly over given the local rules and regulations about bags in stores.  I am more partial to the old system - never been a fan of reusable bags for groceries but then, that's just me!
As for printed bubble envelopes, paper or plastic (poly) is a live option and something that should be considered before placing an order.
Whether to go with one option or the other is mostly a matter of personal preference but there are some differences.  Printed paper bubble mailers have certain advantages:  first and foremost, the quality of print is generally going to be higher on paper. This is especially true if you are planning to print heavy coverage with halftones and screens.  Most poly envelopes are printed flexographically, (most commonly referred to as flexo).  While flexo printing can produce excellent results, digital or offset printing methods will generally show more clarity and contrast and that's how most paper bubble mailers will be printed.
Poly bubble mailers will also have a shinier finish than paper.  Paper will naturally absorb more of the ink and will show in an uncoated finish.  Nothing inherently good or bad about either option; mostly just a matter of taste and sometimes cost.
With regard to security, paper will be more likely to puncture if coming into contact with a sharp object. Poly can puncture as well but it would require a little more pressure.  In either case, the bubble lining inside would provide secure protection for the contents. 
Probably the main difference between the two options will be delivery or turnaround time.  Since COVID, the demand for bubble mailers has never been higher due to the increase in online ordering and delivery. Bubble envelopes are a relatively inexpensive way to package and ship certain goods and can be uniquely printed.  Bubble envelopes tend to be less expensive than corrugated or other types of boxes.  Most poly bubble envelopes are now printed overseas, primarily in China or east Asia. The high demand plus the long-distance shipping back to the US has resulted in typical lead times of 8 to 12 weeks. 
Paper mailers, however, can generally be printed domestically especially in smaller quantities of up to 5,000. This greatly reduces the delivery times and provides greater control over the finished product. The advances in digital printing technology allow for printing on paper bubble envelopes that was not possible even recently.  Four color process designs with heavy coverage are not a problem and can be quite affordable.
Ask us which option might be best for your next project!