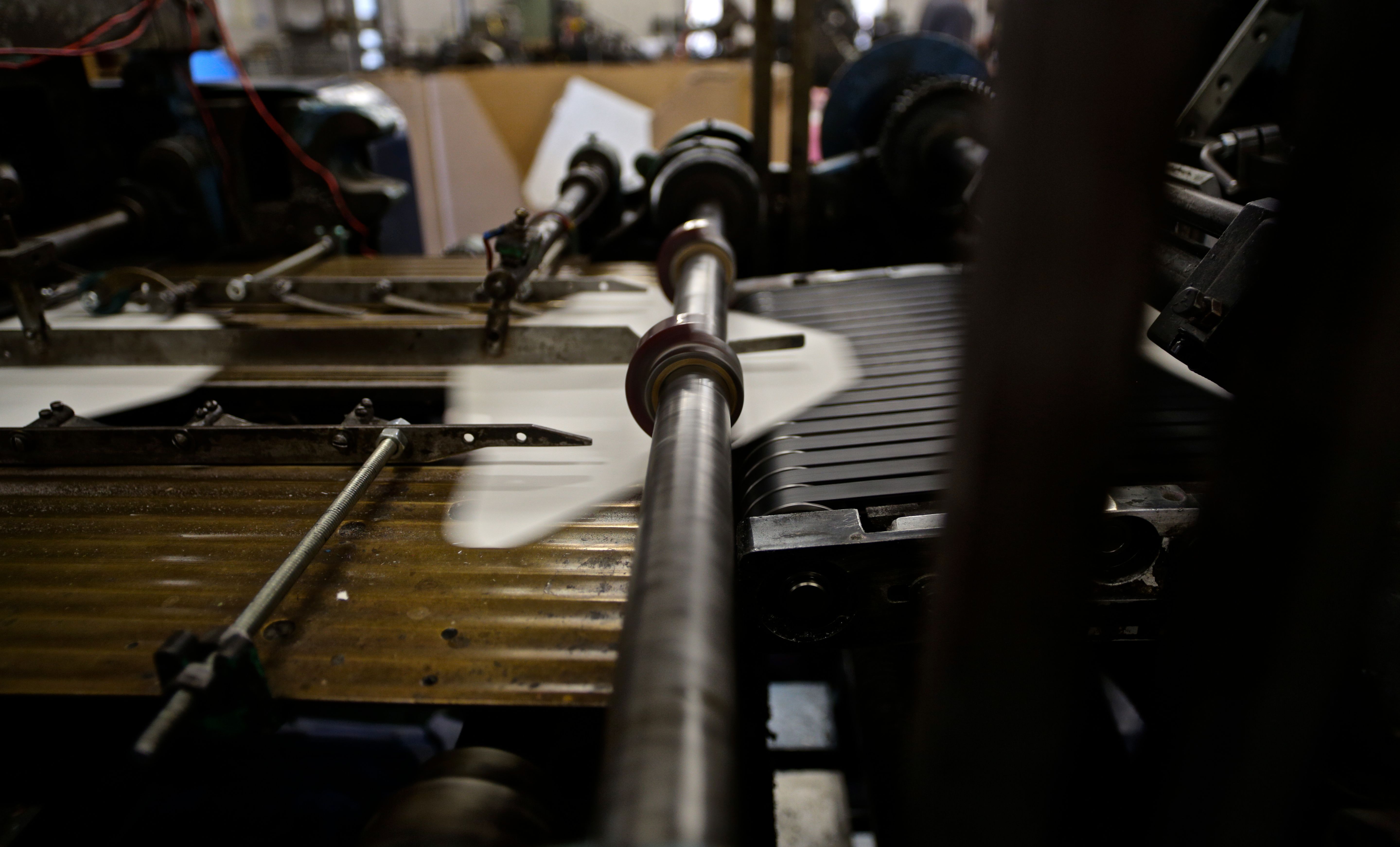 My partner and I started Elite Envelope & Graphics, Inc in December of 2003.  We had previously worked for another envelope converter in greater Boston which had been acquired and then closed early in the new millennium.  When we formed Elite, we debated whether to be a direct source for manufacturing envelopes or to strictly print envelopes and broker out everything else.  Given that once our previous employer was shut down there was no longer an envelope converter in the Boston area, we decided to invest in converting equipment and off we went.
Our pre-Elite experience taught us a few things about envelope converting.  But there's nothing like running your own company and have the "buck" stop at your desk to prepare you for the many different scenarios that customers place before you.  Envelope converting requires specific equipment and a knowledge base combined with the skills necessary to apply it all.  In previous posts, here and here and elsewhere, I've detailed the process and what needs to be kept in mind by customers and vendors.
But as in any business, there are lots of companies that can do a decent job but few who really rise above to excellence.  Here are some things to look in a vendor for when you're ready to send out an envelope conversion job.
Experience:  This counts for a lot. No two envelope converting jobs are the same.  Details like how the job is printed, the type of stock it's printed on, the layout, the grain direction of the paper, how the sheets are stacked for cutting can all have a significant impact on results.  An experienced envelope manufacturer can spot the little things (and some not so little) that might need to be corrected after the fact or, more importantly, before the fact in order to prevent potential problems.
Onsite Production:  There are many companies with the word "envelope" in their name who do not actually make envelopes.  While there are knowledgeable people who run and work at these companies, they are always going to be outsourcing your job. So, rather, than deal with an intermediary, it's best if you deal directly with the company that is cutting and folding your job.
Schedule Integrity and Customer Service:  Sometimes, dealing with a very large company can have its advantages. But in most cases, especially if your order is in the small to mid-size quantity range, you will be better served dealing with a smaller company.  Some of the reasons for this are obvious:  a larger company tends to have larger customers whose work will take priority in all cases.  In a manufacturing environment, things can change; machines break down, people call in sick, etc.  When "stuff happens" your order can get pushed in favor of a larger and more important customer.  With a smaller company, your order has greater value in relation to their overall business.    Also, a larger company might have multiple plant locations and your order could end up a significant distance from you.  That could have an impact on additional shipping time.  At Elite, your order is one of several that might be handled by a customer service representative. She will be following the progress personally from start to finish.  This doesn't always happen at larger companies where there are too many orders to give this kind of individual attention.
Feel free to e mail me directly with any questions about envelope converting. I'm always glad to help!
Jerry@EliteEnvelope.com