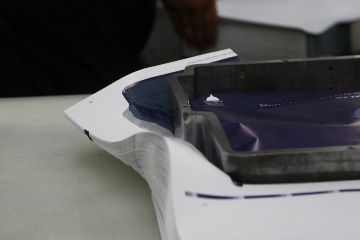 One of the most common questions from printers who aren't familiar with envelope converting is, "Where do I place the impression(s) on the sheet?"
An envelope converter will typically provide a layout to the printer which will show the proper placement of the unfolded envelopes on the sheet to be printed. "Print to the layout" is the short answer to these questions and will usually suffice.  
However, with the growth of digital printing as an economical way to print small-run 4-color jobs, converting jobs of under 5,000 are becoming more common. Digital printers are making customers aware that they can print as few as 500 letterhead and matching envelopes in 4 color process at a reasonable cost. The envelope component is typically printed on flat sheets and then converted for a minimum charge that is less than the cost of setting up a litho press with plates, etc.
In these cases, the printer will be using a small sheet with a one-up impression. The envelope converter will usually provide a die layout that doesn't always show the proper position on the sheet.
In these cases, the standard rule is very simple. The printer must position the unfolded envelope impression 3/8" of an inch from two sides: typically the flap side will be one and one of the side seams the other.
Often, printers will assume that the envelope must be centered on the sheet. This looks neat and clean but it does not yield good results. The reason is that when the cookie-cutter style high-die cuts through the paper (see photo), it needs to break through the ream.  Envelope dies have a small metal piece screwed to the side in the shape of a small anvil. This is what slices through the paper as the die is pressed down. However, it needs to be positioned no more than ½" from the edge in order to work.
If the envelope impression is centered on the sheet, the "anvil" will not be close enough to the edge and the paper will buckle as it is cut. This will cause more variation in the folding. (See previous blog posts to get an explanation of variation in envelope converting).
So, by all means, print to the layout! But if the layout doesn't show position, just make sure you place the impression no more than ½" from two sides of the sheet (3/8" is ideal) and you'll be good to go.