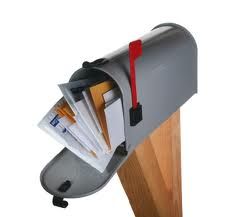 I've posted some items about the problems facing our postal system. The issues occasionally get play in the press and more and more people are becoming aware of what many of us have known for years: the post office can't sustain its cost structure and needs some fundamental reforms in order to survive. This is especially true in light of the decreasing volume of first class mail.
Despite its problems, the Post Office has many professional and conscientious staff committed to helping businesses use the mail system more effectively.  Over the past several decades, I've relied on the folks at the Boston Business Center for advice and assistance and they've been nothing but prompt, friendly and extremely helpful.   Like any large organization/bureaucracy, the post office has so many rules and regulations that it's sometimes hard to get a straight answer on things. The folks in the Business Office always come through for me.
The Post Office is committed to technical innovation; although at a glacial pace compared to the private sector where businesses must face the competitive marketplace on a daily basis.  However, new technologies involving automation and computerization are eventually rolled out and these have helped speed the delivery of mail and keep it a competitive way to get results for direct marketers.
One of the latest improvements is the Intelligent Mail Barcode or Imb. This has taken the existing barcode that is simply a digital reading of the 9-digit zip code and added additional characters which allow for easier sorting and also tracking. 
At Elite, we urge all our customers to convert their business and courtesy reply mail to include the Imb. The end-user must request a Mailer ID number from the Post Office which will also be part of the Imb.  Once that's obtained, it's a fairly simple process and the Post Office will even supply you with a pdf file of the face of the envelope including the barcode.  We handle this for our customers all the time and it's a snap. By switching to the Intelligent Bar Code, a mailer can speed up the reply mail cycle. This can have a positive impact on generating new customers or even cash flow. 
Those of us who rely on the mail for our livelihood either directly or indirectly should support this effort by the Postal Service to keep direct mail viable.