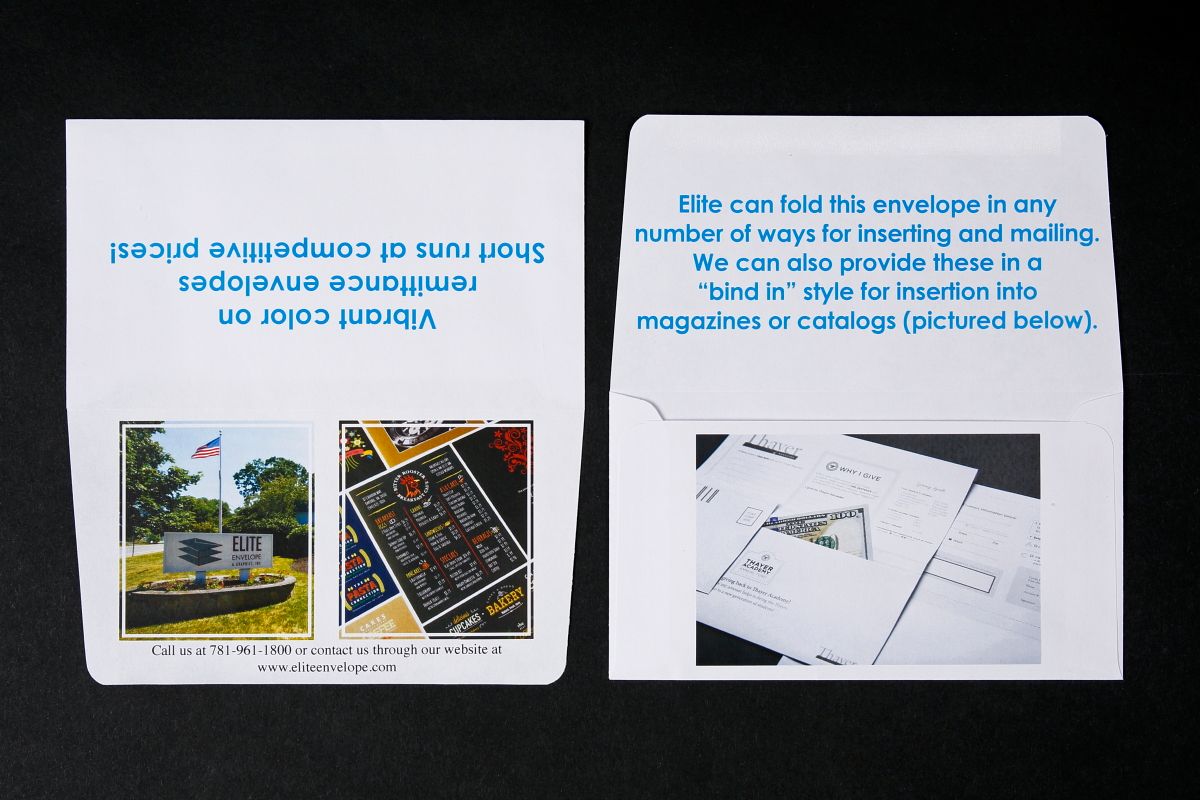 Envelopes used to be an afterthought when it came to a printed package. A lot more time, attention and expense would typically be spent on the contents rather than the package which enclosed them. That is no longer the case and here's my theory as to why:
One of the pervasive aspects of our increasingly affluent society is that people's tastes and expectations change; generally in a more expensive direction. Just to take a couple of examples (there are many others):
My parents drank Maxwell House ground coffee that they bought in a large, pressurized can at the supermarket probably for the same price (or less!) than a single latte drink at Starbucks costs today. Maxwell House was good enough for them and millions of others.
Anyone try to give away their old cathode-ray TV lately? A few years ago I had the Salvation Army refuse to take mine because "everyone wants flat screen TVs these days".  They also wouldn't take my used but good condition sleeper couch with down cushions because of a small, faded portion on the back from the sun.  Apparently, even poverty isn't what it was 50 years ago.
Those are just two examples but the point is, for most of us, pedestrian isn't good enough anymore. One of the prime drivers of this is technology which, for example, makes flat screen TVs less expensive today than my 19" Sony Trinitron cost 20 years ago. Our standard of living has gone up largely because the cost of what used to be premium items has decreased. We're less willing to settle for things like...
simple black printing on envelopes for example!  You can buy a fairly inexpensive color desk top printer and print your own envelopes in pretty colors.  You can also go to Staples or other walk in digital printers, hand them your flash drive and walk out with some fancy color printed envelopes.
But what about if you're a small business owner or a print buyer?  What are your options for more than just a few hundred four color process envelopes? 
There are four possible ways to do this:
Offset Printing
Lithographic Printing
Flexographic Printing
Digital Printing
Offset - The most common offset press made for envelopes and used by most envelope converters, envelope manufacturers and envelope printers is the Jet press made by the Halm Corporation. The four-color jet press is a great option for a quantity of 5,000 and up where the printing is light to medium coverage with no bleeds.  For instance - if you have a small four color logo that you place with your return address, the four color Jet is generally the best way to go for price and good quality.
Lithographic - By this I mean high-quality sheet-fed printing from a large, sophisticated press made by companies like Heidelberg and Kamori which you'll find at large, commercial printing companies. Envelope converters like Elite Envelope will take printed sheets from these companies, almost always printed in full color, and cut, fold and glue them into envelopes. The reasons an envelope is printed this way boil down to three: coverage, quality and stock.  If the envelope has full coverage, front and back, this is one of your two options (flexo is the other, more on that shortly). If the envelope uses coated stock, then it generally needs to be printed this way. And sheetfed offset is generally the gold-standard for print quality in the industry. So if your envelope has to look better than anyone else's, this is probably the way for you to go.
Flexographic - Also known as "flexo" uses hard-plastic photo polymer plates versus the metal plates used in offset printing. It is done in-line (as the envelope is being manufactured) and features quick drying ink. Flexo used to be pretty much exclusively for "down and dirty" print jobs;  black or one color with simple copy. It's main advantage is cost; especially on very large quantities (typically 100,000 and up).  The quality of flexo printing has improved dramatically over the past several decades and there is now so-called "enhanced flexo" equipment which prints four color process in full coverage with outstanding results. However the quality is still not quite up to the level of lithography.
Lastly as I already mentioned, there's digital printing.  This is done mostly with toner versus ink. The quality is generally very good especially as the technology improves. Unlike the other three methods, there's virtually no-set up time required for digital printers. You pretty much just click and go. For that reason, digital is great for small runs of up to around 2,500.  However digital printers are very slow in comparison to offset or flexo presses so after that number, you're better off going offset.  Another drawback with digital printers is because of the intense heat needed to set the toner, regular poly window patch material melts.  So special and more expensive material must be used if you're printing a window envelope.  Plus, while the quality is good, it has a different look than offset printing. So, if the components are printed offset, they won't match the envelope which can be a problem in some packages. However, one great advantage to digital printing is that it can easily print variable data which has become essential in the world of direct marketing. And if you need a larger quantity of digitally printed envelopes, there are some very-sophisticated digital web presses that can print on sheets or rolls for converting later.
If you have a question on how to print a particular envelope to best meet your needs, send me an e mail or give me a call. I'll be happy to help you sort things out.