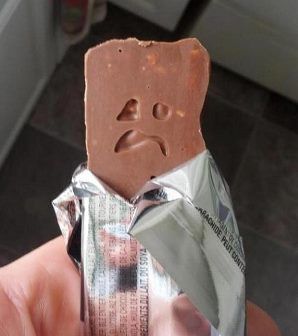 I had an interesting conversation with a successful entrepreneur a while back.  She was one of the principals for a company that produces very high quality and very delicious square-shaped chocolate bars.  (By the way, the frowning (smirking?) candy bar photo here is not the product in question. The ones to which I'm referring were of a much happier variety!)
Her idea was to have us create a small, square envelope for the outside packaging on her candy bar. The bar would have a folded foil wrap directly covering it and then would be inserted into an envelope and sealed.  It would be a white envelope printed in four color process on the outside to create the required design along with ingredient information and the required nutrition breakdown. 
I told her I thought this was a great idea and not just because she had selected us to do the job. I can't think of any food products that use envelopes for outside packaging but certainly there must be some that could. You need something fairly flat and dense.  Candy bars are an obvious example although like all good ideas, it seems obvious only after someone comes up with it.
The thing about envelopes is they have certain characteristics that convey things like timelessness, sturdiness and consistency, not to mention reliability. After all, the motto of the United States Postal Service is "Neither snow, nor rain, nor heat nor gloom of night stays these couriers from the swift completion of their appointed rounds."  According to Wikipedia, that phrase was a translation from the Greek historian Herodotus describing the ancient Persian system of mail carriers circa 500 BC.  You can't fake that kind of historical lineage.
I realize of course that we live in an age when the 1980s is seen as ancient history but there are certain products which have deep cultural roots that resonate. Envelopes are certainly in that category. Cars also need to be included in that list. It can't hurt for a product to have a tie-in to a simpler, perhaps less-complicated time. Nostalgia may often be an overly sentimental longing for a past that never actually existed.  But the feeling is undeniable and it starts to hit everyone who's well into his twenties and beyond.
Now, I'm an envelope manufacturing guy and I have my biases but I can't help think that printed envelopes, with all the possible options of paper and design, are an excellent choice for packaging the right product at the retail level.  We're here if anybody out there wants to talk about it!