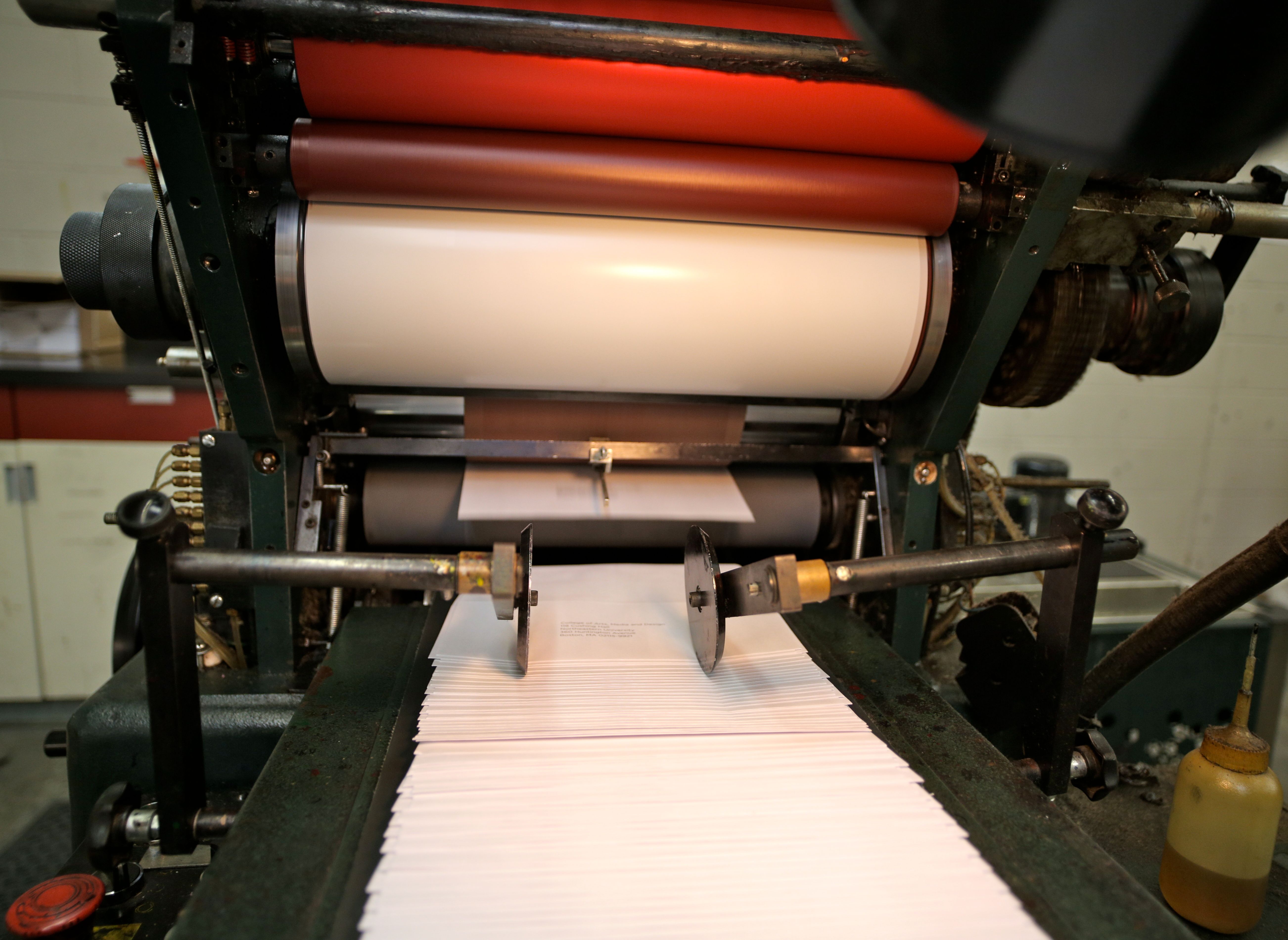 Envelope printing has come a long way since the days when Confederate soldiers folded wallpaper to serve as a carrier for their letters home.
These days, the vast majority of the estimated 400 billion envelopes used annually worldwide are printed in 4 ways: offset, flexographic, flat sheet litho and digital. In today's post, we will focus on offset printing.
The name offset comes from the process whereby a metal printing plate is burned with the image which is then transferred or "offset" to a printing blanket.  The blanket is attached to a roller in the press and coated with ink. The envelope is fed through the press and is printed with the image when it comes in contact with the ink-covered blanket.  Small, 2 color offset presses such as Multi and AB Dick can be adapted to print envelopes with the use of an envelope feeder.  While relatively slow, these do an OK job for small quantity runs (2,500 or fewer).
For anything over that quantity, envelopes are most economically printed on a Jet press. These presses are specially designed for envelope printing and some of the newer models can achieve speeds up to 40,000 per hour or more. Those of us in the biz will use the word "jet" as a verb as in "those envelopes need to be jetted".  This is sometimes confused with ink-jetting which is a completely different animal (used to print addresses on bulk mailings).  Jet is a brand name for envelope printing presses made by the Halm Corporation.  The vast majority of offset printing for custom printed envelopes are done by this type and brand. The quality is excellent and very consistent.
How do you know if offset printing is right for your envelope job?  The two main criteria to consider are the quantity you are looking for and the specific graphic image you want printed.
Quantity: - Offset printing is the most economical way to go on jobs of 2,500 and over. If the job must be done with offset printing, quantities from a handful to around 2,500 are most economically printed on one of the smaller, (non-Jet) presses previously mentioned.  (Digital printing is perhaps an even better option for these small runs, more on that in a subsequent post)  Anything 2,500 or more would be best sent to an actual envelope company which utilizes Jet presses.  
Quality: - Certain graphic images such as those containing fine lines, long, thin lines, half-tones (photos) screens (lighter shades of a darker color made by a concentration of tiny dots of varying density) or tight registration (a combination of images placed very close together or actually touching) generally require offset printing for best results. An envelope printing expert can tell from viewing your artwork what the best printing method would be for your custom printed envelopes.
I'll get into the other main envelope printing methods in my next posts.