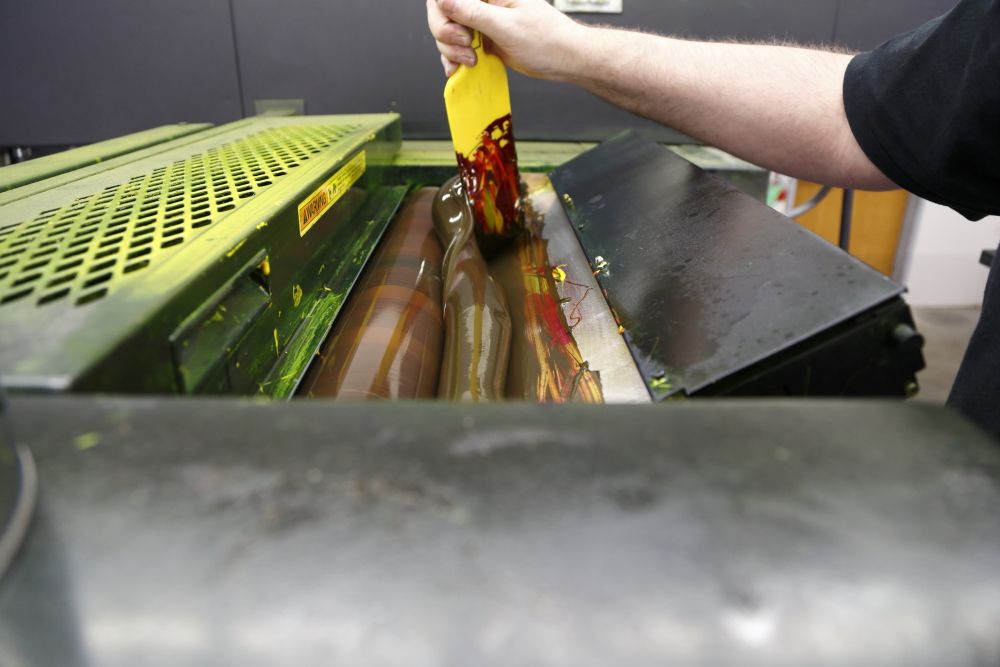 While offset and flexographic printing are the two main methods for custom printed envelopes, there is a third way which is very commonly employed; lithographic printing on large, sheet fed and web presses.
These presses are typically employed by printing companies which provide high quality, full color printing on sheets up to 28 x 40 or larger. If a customer has a custom printed envelope that requires full ink coverage on all sides or even very heavy coverage on just one side, then it must be printed on a flat sheet which is then die-cut and converted into an envelope.  (For more specific information on envelope converting, see the blog post here.  
There are two main reasons why this approach must be taken.  First, envelope printing presses like the most commonly used Halm Jet presses are not able to print full coverage on all sides of a made envelope.  As my previous post on flexographic printing explains, full coverage can be printed this way in-line but it's only cost-effective at quantities of at least a few hundred thousand, usually more. 
The second reason is that when jet presses print heavy solids on a made envelope, there are potential problems.   Two of the main ones are seam marks and offsetting.  When a heavy application of ink is applied in this way, the seams usually become visible due to the combination of dense ink and the pressure of the print rollers.  Offsetting occurs when dense concentrations of dark ink are applied to an envelope. As the envelopes come off the press, they come in contact with one another before being scooped up in bundles and put back into a box. The rubbing or scuffing during this process causes the heavy ink solid to rub off onto the envelope next to it leaving a mark.
Offsetting can be mitigated or eliminated by using a UV dryer. This unit applies extra heat to the envelope as it comes off the press which can dry the ink sufficiently to prevent it from rubbing off.  This approach is workable but slows down the process and adds cost to the job.
Printing an envelope on a flat sheet and converting it after the fact eliminates any seam marks or offsetting. It's also a better way to print full coverage on window envelopes.  Any envelope with a window needs a white border if it's printed on a Jet press.  Flat sheet printing allows for the window to be cut out of the print solid during the converting process which looks much better.
Envelope printing with flat sheets and then converting is a more expensive way to go but yields excellent results and is very common in high-end direct mail pieces.  One of the disadvantages of this approach from a customer's standpoint is that it almost always requires dealing with two different companies for the same job.  There are very few companies that have both the printing and envelope equipment necessary to do both components. Elite Envelope happens to be one of the few companies that can do both under one roof with our combination of web printing and envelope converting.