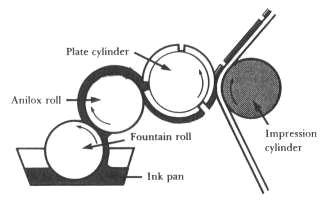 Flexographic printing, more commonly referred to as "flexo", has been one of the main types of envelope printing for almost a century.  It was a technological upgrade from letterpress printing which goes back to the days of the Gutenberg press.  Flexography got its name from the flexible rubber plate which it uses to apply the graphic image.
Because of the limitations of the rubber plate, flexo printing was traditionally confined to very basic graphic images:  mostly just type and numbers. However for a return address or reply envelope copy, the quality afforded with flexo printing was more than acceptable for most simple envelope printing requirements.
In the late 1980's, the invention and practical application of hard plastic (photo polymer) printing plates helped to revolutionize flexographic printing by opening it up to a much larger range of printing possibilities.  These days, flexo printing is routinely used with process printing, halftones, screens and many other fine applications which were previously not possible in that process.
For envelopes, the advantage of flexographic printing stems from the fact that it can be done while the envelope is being made. Many envelope folding machines have built-in printing stations which can apply not only an inside tint (typically printed flexo) but also printing on the outside of the envelope up to two colors.  This "in-line" printing is more economical than printing an envelope on an offset press as a separate process.  Although flexo has come a long way, the type of image that yields acceptable results on this type of equipment is still limited compared to what is possible with offset printing.  The plastic plate just doesn't hold the image as well as the metal plates used in offset printing.  
The more advanced flexo printing mentioned above is done on big, expensive machines that require very large quantities (usually starting around 250,000) in order to be cost-effective. The reply envelopes that you get along with your credit card bill are mostly flexo-printed on these types of machines.
So how do you decide whether flexo printing is right for your printed envelopes?  The same two criteria that we applied to the offset printing decision process will apply here as well.
Quantity:  In-line flexo printing of the most common variety (1 or 2 spot colors) becomes competitive with offset printing at around the 100,000 quantity level.  That's where Elite Envelope will generally start quoting if the customer is looking for the best possible price. The cost of the plates and set up time will usually make it less cost-effective at quantities lower than that.  Another factor is that Jet offset printing prices have come down a bit in the past 5-10 years or so which makes it more competitive against flexo in higher quantities which did not used to be the case.  For high-quality flexo printing of the type I mentioned, use the 250,000 quantity as a general rule although some companies will price these jobs competitively at quantities of 100,000 or more.
Quality:  - At Elite Envelope, flexo printing is quoted conditionally "based on suitability following an inspection of the copy to be printed". Some quotes are so price-sensitive that a customer will want the flexo price only to find out that what they are printing cannot be done that way.  Unless you are printing at the kind of quantities which allow for the state-of-the-art equipment to be employed, any copy with screens, half tones or duo tones, tight registration or fine lines will most likely have to be printed offset.  Some of the decision is based on what is possible and some of it is based on the level of quality that a customer is expecting.   
In part three of this series on custom envelope printing, I'll delve into flat sheet litho printing and converting.