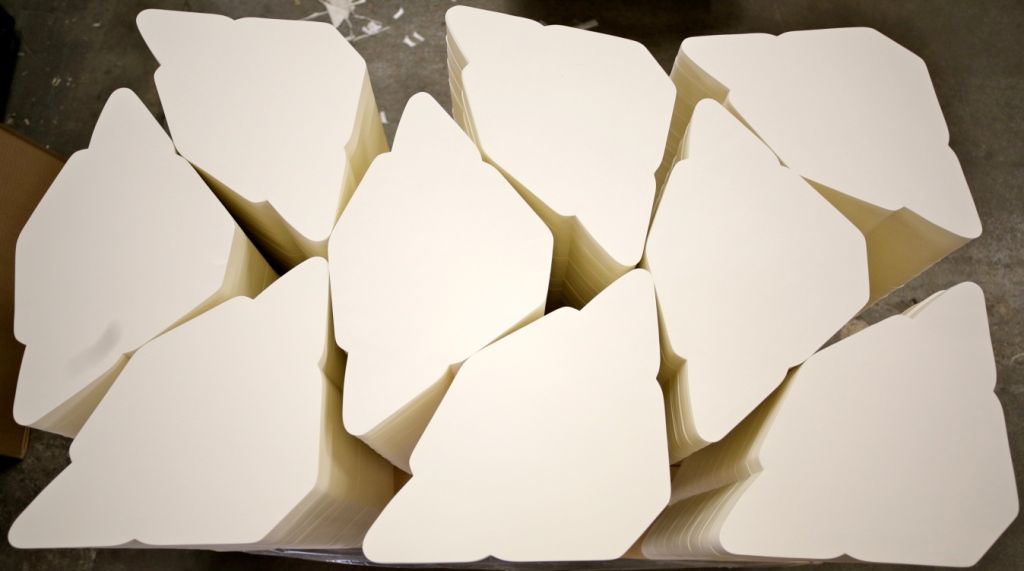 Manufacturing an envelope in any size or type; custom envelope, specialty envelope or even a standard envelope involves several distinct processes.  Envelope converting can be a little confusing especially for someone not familiar with how it's done.
One of the most common concerns from customers of envelope converters is the degree of variation in the product.  By variation, we mean the slight differences in overall size of the envelope, window placement and print placement from what was ordered.
Variation is the result of the three main stages that paper goes through to become an envelope: cutting, folding and gluing and, in some cases, envelope printing.  Another major factor is the nature of the raw material; i.e. paper.
Cutting:  The unfolded piece of paper that becomes an envelope is called a "blank". Blanks are cut by placing a steel cutting die that resembles a cookie cutter (except much bigger and heavier!) on top of a large ream of paper. The die is then pressed down by the cutting machine until it goes through the entire ream or "lift" of paper.  Paper is a naturally pliable substance.  As the die cuts through the ream, a slight bending or bowing can occur until it reaches the bottom and the paper ream "breaks" at which time it will lay flat.  That slight movement during cutting can cause some of the blanks to vary in size by as much as 1/16" from others.  The hardness or thickness of the paper can be factor as well as the sharpness of the die and the number of sheets in the ream. But ultimately, some variation as a result of die-cutting is unavoidable.
Folding:  Once the blanks are cut, they are then loaded into the machine which applies the glue and folds them into a finished envelope. The typical envelope folding machine is between 20 and 30 feet long. The envelope blank will run all the way from one side to the other and then back again through scoring blades, window panel cutters and glue stations.  While envelope folding equipment is engineered for precision, there is a certain amount of movement during the process that is normal and, unfortunately, unavoidable. That movement can account for an additional variation of up to 1/16".
In our next post, we'll finish up the reasons for variation and also discuss some strategies customers can take to minimize its effect.