Karen Chabot - Account Manager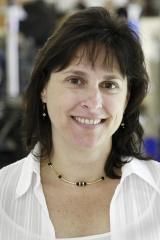 Karen began working in the paper industry for the Colrane Company which later became Century Robinson. From there she moved onto Lindenmeyr Munroe where she and a colleague started a Resale Paper division specializing in the sale of papers to brokers and distributors.
The "colleague" eventually became Karen's husband at which point she transferred to the main Lindenmeyr office in Mansfield, MA where she served in customer service as a Business Manager until she left to be at home with her two small children.
Karen began working for Elite Envelope in the summer of 2008 where she currently handles a portion of the customer service load in the same very capable manner. Her experience in the paper industry gives Elite's customers the benefit of someone they can consult with for suggestions on just the right sheet for the job.
Karen is yet another big sports fan in Elite's office with her favorites being the Red Sox and the Patriots. She loves to travel and engage in outdoor activities; especially skiing and going to the beach with husband Rick and their two children Mikayla and Ryan.