David Theriault - President - Owner/Founder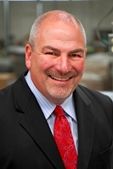 Connect with me on LinkedIn
Dave grew up in Westwood, MA. After graduating from Westwood HS, he attended Babson College where he earned a Bachelor's degree in finance and business management.
Right out of college, Dave was offered the position of operations manager at Northeastern Envelope Manufacturing where he worked side by side with company owner and envelope legend Jerry Mitchell. At the Northeastern plant, which at the time was located right across the street from the old Boston Garden, Dave worked his way up to Vice President; developing expertise in all aspects of the manufacturing and printing process as well as managing the company's 55 employees. Dave also worked closely with future partner Jerry Velona who was in sales for the company.
Northeastern's customers included many of the areas biggest direct marketers and mailers; companies such as Epsilon and Hub Mail. After 16 years in the envelope industry, Dave decided to switch gears and took a position as director of operations at Amergent in Peabody, one of New England's leading database marketing companies.
In 2003, he decided to return to his roots in envelope manufacturing and formed Elite Envelope & Graphics, Inc. along with Jerry Velona and Tracie Theriault.
As President and CEO of Elite, Dave was instrumental in building the company from its modest beginnings in Braintree with a staff of 3 to a $7 million company which employs 28. The company purchased and renovated a 25,000 square foot facility in Randolph in 2008 and has resided there since February of 2009. In 2012, Elite purchased Web Corp, a cold web printing company which eventually moved into the Randolph facility. In 2017, Elite acquired two more companies including one that specialized in business forms which added a different aspect to the company.  In recognition of its growth and success, Elite received a bronze Team Massachusetts Economic Impact Award from Mass Econ in late 2009.
Dave has always taken a hands-on approach to management and handles a hefty portion of the day to day customer work as well as his executive responsibilities. He is recognized as one of the top professionals in his field in the New England region and currently serves on the Board of Directors for the Printing Industries of New England (PINE). Dave has also been active with the Randolph Chamber of Commerce and various aspects of the town government. 
In his time away from the office, Dave enjoys traveling, cooking, sports and spending time with his two children Joe and Jack and his wife Tracie.