Darlene Anderson - Account Manager - Cold Web & Forms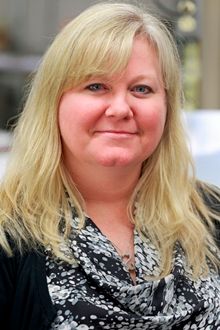 Few people have Darlene's combination of experience and capability she possesses in all aspects of graphic arts, print buying, account management, sourcing and problem-solving.
After earning a marketing degree from Newbury College, Darlene worked at a succession of companies that reads like a who's-who in the direct mail, marketing and print buying world in Massachusetts: J Baker, Casual Male, Vantage Travel and Data Associates. Her skills were honed working alongside some of the most experienced and savvy people in the industry. Over the years she has developed a wide and very useful professional network that she's able to draw on to the benefit of Elite's customers. "It seems like I run into someone I've worked with on a regular basis. It's a small world out there!" she laughed.
While at Data Associates, Darlene broadened her expertise in areas like direct mail production and promotional products. Afterward, she branched out with one of the DA reps and managed his business for nearly ten years before deciding to join Elite's staff on a full time basis in 2015. "Darlene worked for us part time on and off and we were trying to get her to join us full time for a while", said Elite's co-owner Jerry Velona. "We' were thrilled that we could make that happen. She's a great addition to our all-star customer service staff and a huge benefit to our customers", he said.
In her spare time, when she's not bartending at her hometown club, Darlene likes to read, take her mother on casino trips and go camping with her husband Mark.