Printed Bubble Envelopes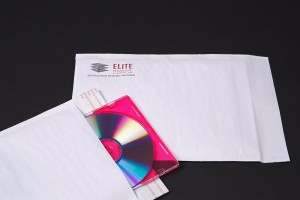 Have you ever tried to order a custom printed bubble envelope?  Not easy. Because of their thickness and instability between print rollers, bubble envelopes tend to be difficult to print.  As a result, most companies who do print them will place a lot of restrictions on the order with respect to print coverage and minimum quantities.  
Over the years we've had many small business owners express frustration to us about the lack of options they had to print their logo and other important branding information on the envelope they used to send out products to their customers.  Bubble envelopes have become more important in the digital economy for order fulfillment.  So, we went to work and devised a way to print these envelopes on one of our offset presses with impressive results.  
Elite Envelope can print up to two colors on stock paper bubble envelope with quality offset printing and NO MINIMUMS.   We can print on stock sizes from #000 (4" x 8") up through #2 (8 1/2 x 12).  
For larger or smaller sizes, or for printing with heavier ink coverage, bleeds or additional colors, including 4 color process, we can provide our Smart Bubble product. 
These are paper, tyvek or poly bags with removable bubble sleeves. Available in dozens of sizes; either booklet or catalog style, printed or unprinted with a peel and seal closure.  Not having the bubble sleeve glued into the envelope allows the end user to remove and reuse it for longer term storage of the contents or for other needs. It's a recycling feature that's practical and reduces waste.  The sleeve fits snugly in the envelope and once it is sealed, the contents are secure. Aside from being environmentally friendly, this feature allows us to print a wide variety of colors and designs on the envelope which are generally not available on conventional bubble envelopes.
Printed Bubble Envelopes and Bubble Mailers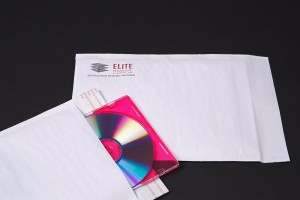 Anyone who's tried to buy a small quantity of custom printed bubble envelopes knows how difficult it can be.  At Elite Envelope, we've solved that problem and you'll love what we can do.  
First, we can print up to two colors on a stock bubble paper envelope in either white or brown kraft.  The print is is high-quality Jet offset printing in the following stock sizes:   
#000 - 4" x 8"   - 250 per carton
#00 -  5" x 10" - 250 per carton
#0 -    6"x 10" -  200 per carton
#1 - 7-1/4" x 12" - 100 per carton
#2 - 8-1/2" x 12"  - 100 per carton
The items pictured above were printed in this fashion.  Printing on the bubble envelope will give you a more professional look than sticking on a label. It will set apart the mail from the ordinary and let your customers know that they are receiving something special. We're more than happy to print small quantities down to a single carton. Or as many as you'd need. 
Secondly, we can print up to four colors even with full coverage on the front and back with our "Smart Bubble" product.  By using a removable bubble sleeve, we are able to print pretty much any type of coverage on a paper,Tyvek or Herculink envelope first and then insert the bubble sleeve.  The protection is exactly the same as a stock envelopes and it has the added benefit of allowing the bubble sleeve itself to be reused or recycled rather than thrown in the trash with the envelope – hence the "Smart" part.
For Smart Bubble orders, there are no size or ink coverage restrictions (up to four colors).  Certain sizes will be less expensive than others and open end or catalog style envelopes will be less expensive than open side or booklet style envelopes in most cases. And there are no minimums on this style either. We'll quote on whatever quantity you require.  These jobs are all considered custom so just contact us for a quote or if you have any questions.