Hillary Librot - Vice President - Cold Web Division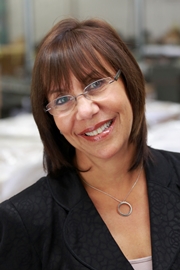 The maxim that life can take some interesting and unexpected turns certainly applies to Hillary Librot. Hillary grew up near the beach in Hull, Massachusetts and eventually attended Northeastern University where she received a BS in Education. "I grew up wanting to be a teacher," she said.
Fresh from college, Hillary taught third grade at the Jacobs School in Hull for five years until budget cuts forced her to look elsewhere for employment. She decided to embark on a new career in sales and took a job with MarCon Graphics in Boston. According to Hillary, "At this point in my life, I didn't quite know exactly where I wanted to end up but printing sales seemed like a good fit for me. It was so completely different and I loved the challenge."
As is often the case in life, one thing led to another and Hillary met her late husband Howard when MarCon merged with Foremost Printing. Deciding to form their own company featuring cold web and Jet printing, Hillary and Howard started Web Corp.
After Howard's untimely death in l997, Hillary assumed sole ownership of Web Corp and moved the operation to Randolph, MA where she ran the company very successfully for 15 years, serving numerous high profile customers before merging with Elite Envelope & Graphics in September of 2012. "We had worked with Elite both as a customer and supplier for many years so we knew each other well and the companies were a good match."
Hillary runs the cold web division at Elite along with most of her Web Corp team. She has served on the board of The Printing Industries of New England (PINE).
When she's not working you'll often find her at the golf course, reading, cooking, traveling or just spending time with her husband Dr. Stephen Chafkin and her family.